Kane's Kennel
|
home




What's New
"Breeding and pups available"

Kane and Nekkie have been bred 4/2/02
Pups due 6/3/02 "Expecting Merles"
Nekkie is a unique creme (blue fawn) color with a gray nose and weighs about 60-65 lbs.
Kane is red red nose and weighs about 75 lbs.
Pups will be ADBA $500.00 and up!
Pup's born 6/6/02 9 total 4 merles



Due to problems that Liz at Phatman Kennels could not prevent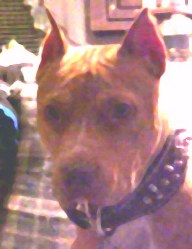 Niquie Has Come to live with us
Phatman Kennels has had to move so Niquie has come to Kane's Kennel
Phatman is now with Chris Fuller in Travelers rest we will have litter's soon!
Phatman Kennels still has a one female Pup for sale
Niquie has pup's born 6/11/02

Breeding and pups available